At the end of each school year for the past 10 years, family members, mentors, SAISD administration, and friends would gather together in the Alamo Convocation Center to celebrate SAISD's finest first-year teachers. But this year, due to the COVID-19 pandemic, SAISD's annual Rising Star Awards ceremony went mobile, with each campus recognizing their own shining star with a variety of social-distancing celebrations.
"Initially, it was quite a challenge to re-imagine what this event would look like," said Toni Thompson, associate superintendent of Human Resources. "We were disappointed that we could not hold a ceremony for them which would provide an opportunity for hugs, handshakes and high fives, but once we started reaching out to campuses, we felt confident that they would help us recognize these outstanding educators in memorable ways. That has certainly happened and we appreciate the efforts that campuses have undertaken."
Of the more than 200 first-year teachers currently closing out the 2019-2020 school year, 40 were selected for this honor. Each of the Rising Stars will receive a $50 voucher for the Learning Zone, an SAISD star keyring, SAISD tumbler, a certificate of recognition and a customized yard sign.
Out of the 40 teachers recognized, four were chosen as 2019 Rising Star Teachers of the Year in one of four categories: early childhood, elementary, middle school, and high school. These top four teachers were surprised with flowers, balloons and an additional $200 voucher for Learning Zone by school and District administrators on the teacher's home campus as they packed up their classrooms for the summer.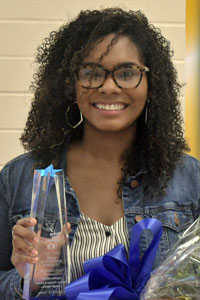 Tatiary Ozuna-Lawson
Head Start Teacher
Carrol Early Childhood Education Center
Tatiary Ozuna-Lawson, Head Start teacher at Carrol Early Childhood Education Center, won in the early childhood category.
"Ms. Ozuna-Lawson has established a positive learning environment built on solid relationships with students, families, and her Instructional assistant," wrote Fabiola Gonzalez, associate principal at Carrol, in Ozuna-Lawson's nomination packet. "She greets everybody daily with a smile on her face and incorporates routines in her daily schedule to foster a caring and safe environment. Ms. Ozuna has open communication with her students' families and the shared space is fluid for families to communicate with her and her teaching partner."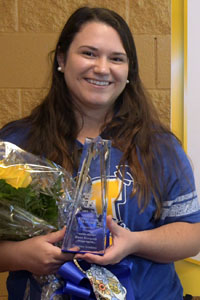 Kiana Bourgeois
Special Education Teacher
Douglass Academy
Kiana Bourgeois, special education teacher at Douglass Academy, won in the elementary category.
"Since the moment Ms. Bourgeois stepped foot on campus, she's been a driving force to ensure every child is comfortable in their learning environment," wrote Dr. Stephanie Ratliff, principal at Douglass Academy, in Bourgeois' nomination packet. "Her understanding of the learning environment goes beyond physical aspects of a classroom – she dug deeper! When decorating her classroom she took research into account and researched what colors would best help students remain calm. She got to know her students by reaching out to them before school even started. In addition to talking with students, she talked with parents about their child's interests and learning styles."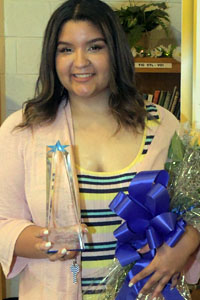 Valentina Fernandez Plaza
ELA Teacher
Whittier Middle School
Valentina Fernandez Plaza, ELA teacher at Whittier Middle School, won in the middle school category.
"Ms. Fernandez was an early adopter of utilizing Google classroom as part of the VILS program to put learning online for her students, taking full advantage of the technology available to further student learning," wrote Irene Talamantes, principal at Whittier, in Fernandez's nomination packet. "Ms. Fernandez's use of these different ways facilitates clear communication of her lessons to her students taking advantage of their varied learning styles in and out of the classroom. During the recent COVID-19 pandemic, she also created a virtual classroom utilizing Instagram, Flip grid, email and Zoom for her students and parents to maintain contact with her during the time that school is not in session. Students communicate their appreciation to her with their accolades of her teaching in comments they have sent to her."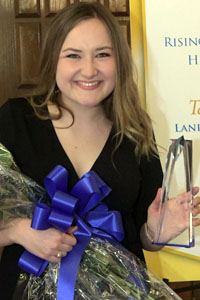 Taylor Cantu
Chemistry Teacher
Lanier High School
Taylor Cantu, chemistry teacher at Lanier High School, won in the high school category.
"Through knowledge of students and proven practices, Ms. Cantu ensures high levels of learning, social-emotional development, and achievement for all students," wrote Dr. Moises Ortiz, principal at Lanier, in Cantu's nomination packet. "Ms. Cantu builds personal relationships with all students by showing interest in their academic and extracurricular activities including attending sports games, band events, pep rallies, and community events. She builds relationships with her students making them comfortable to openly talk with her."
To be nominated for a Rising Star Award, each school principal must submit an application that highlights four key areas in which the nominated teacher demonstrates excellence: effectiveness in the classroom, evidence of exceptional qualities, demonstrated leadership, and other qualifying information. The school-level applications are forwarded onto Human Resources, and a District-level committee makes the selection based on the criteria.
"I would like to say to all of our first-year teachers, thank you for choosing SAISD; thank you for your commitment to our students and families; and thank you for making a difference," said Thompson. "I hope that your relationship with SAISD is long-lasting and rewarding. We appreciate you!"